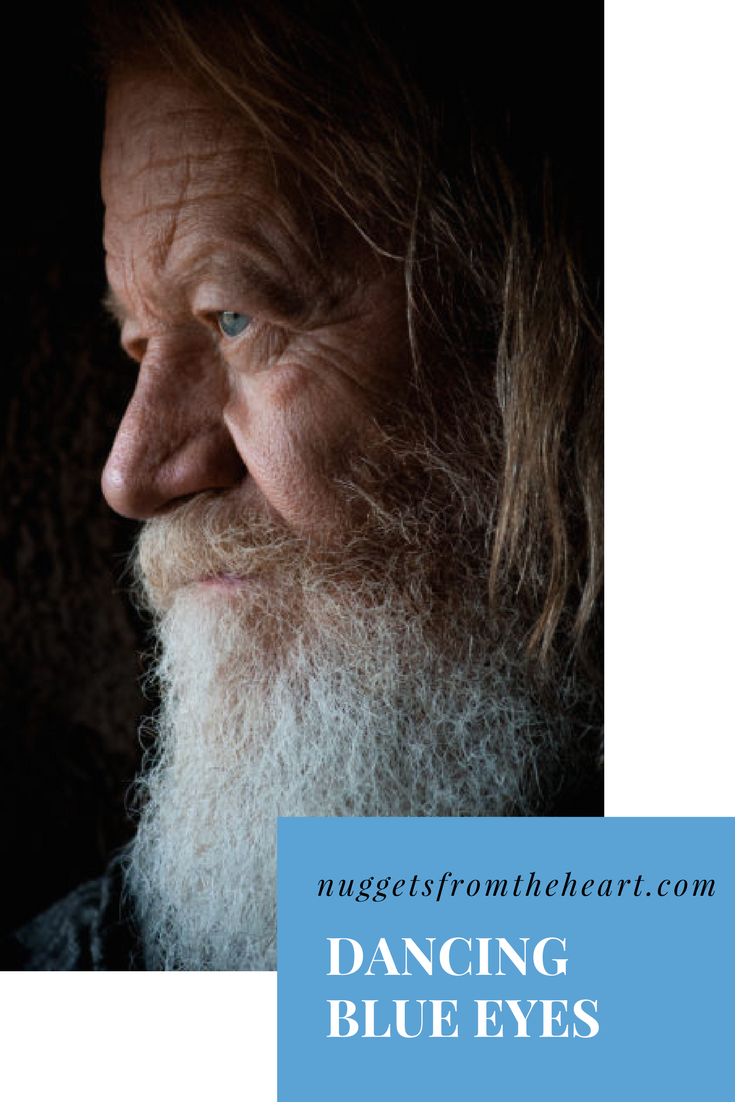 As I drive back home after running a few errands I approach the familiar intersection. From a distance I surmise the timing of the lights and whisper a quick prayer of thanks that I will likely have the opportunity to stop at the light.
I see him. I see the little man at the corner by the light. He stands faithful at his post smiling and greeting the drivers and their passengers as they speed by. The fact that most of the people driving by do not even take notice of him does not seem to affect him one bit! One hand waves a friendly hello while the other clutches his small stack of local newspapers. It is cold today and his worn grey coat is buttoned up tightly bringing what protection it can from the wind. He wears a black knit cap and he has pulled the hood from his coat over it as well. In spite of the overcast skies that seem to send warning threats of rain, this little man stands undaunted as he carries on with his task.
I am stopped three cars back from the red light. I keep looking his way and finally he catches my eye. I nod to him indicating to come to my car. Quickly I reach for my handbag on the passenger seat next to me. I pull out my wallet where I find two different bills tucked inside the creases of the bill compartment. Without hesitation I pull out the one with Andrew Jackson's face. Sorry George Washington but the need is great right now and the call for generosity is beckoning.
The small little man rushes eagerly to my car and stretches out a newspaper through the open passenger side window. I notice now that his hands are red because he has no gloves. His deeply sun wrinkled face peers in at me. Still he smiles and I notice that most of his teeth are missing. The ones that are left are now darkened in color, likely from years of smoking. Our eyes meet. Oh those piercing deep blue eyes! There is a twinkle in them that does not match up with the rest of his face. The gleam in his eyes reminds me of a child's eyes filled with anticipation on Christmas morning. It is said that the eyes are the window to the soul. Is it possible that his soul is actually dancing in spite of his circumstances at the moment? I marvel at the thought!
I smile back and greet him with a friendly hello. I tell him I do not have need of the newspaper today but I have something for him. I place the bill into his cold wind chapped hand and simply say, "God bless you!" As he realizes that the money amounts to more than the sale of several newspapers, his eyes sparkle brighter with a renewed happiness. Smiling even broader he says back, "Oh thank you ma'am…God bless you as well. Thank you so much!"
The light turns green now. I must go. He must stay. In my rear view mirror I see him run back to his post like a proud little soldier carrying out an assignment.
As I continue my drive home, my mind cannot escape the man's face and especially his eyes. Many questions begin to roll through my mind.
Who is this little man?
What is his story?
Does he or did he have a family at one time?
Will he use the money he received to buy a good hot meal?
Where will he lay his head down to rest tonight?
Will he return to his post tomorrow?
 Before I realize it I find myself pulling into my driveway. I am home. All I have to do is walk through the door and there awaits family, warmth, love, food and countless other blessings. For a moment my mind races back to that traffic intersection. In my mind I see the little man's face again and I whisper a prayer for his protection this night. I know our brief encounter was a blessing…for me as much as for this little man with the dancing blue eyes.

Photo Credit: Unsplash.com