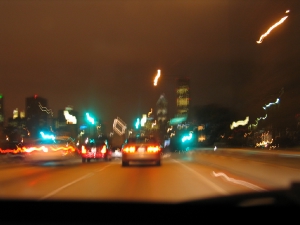 Do you ever wonder what it is that everyone is in such a hurry about? It seems that we are always racing to meet a deadline or check off that next thing on our long lists of "to dos." And pulllleeeeezzzz do not let someone or something interfere with or get in the way of our plan! After all we have an agenda. We have places to go, people to see and things to get done. Believe me when I tell you that I am talking to myself as much as anyone else on this one!
I received this "conversation" in an email not too long ago and it made me stop to think about just how much God protects me on a daily basis. He protects me and my loved ones even when we are not aware of danger. Take a minute to read the following "conversation." I think it is worth pondering.
Me: God, can I ask you a question?
God: Sure.
Me: Promise you won't get mad.
God: I promise.
Me: Why did you let so much stuff happen to me today?
God: What do you mean?
Me: Well first of all I woke up late.
God: Yes.
Me: Then my car took forever to start.
God: Okay.
Me: At lunch they made my sandwich wrong and I had to wait.
God: Huummm.
Me: Then on the way home, my phone went dead, just as I picked up a call.
God: All right.
Me: And on top of it all, when I got home I just wanted to soak my feet in my new foot massager and relax, but it wouldn't work!!! Nothing went right today! Why did you let all that happen?
God: Let me see, the Death Angel was at your bed this morning and I had to send one of my warrior angels to battle him for your life. I let you sleep through that.
Me: (humbled): OH…
GOD: I didn't let your car start because there was a drunk driver on your route that would have hit you if you were on the road at your usual time.
Me: (ashamed)
God: The first person who made your sandwich today was sick and I didn't want you to catch what they have. I knew you couldn't afford to miss work.
Me: (embarrassed): Ok…
God: Your phone went dead because the person that was calling was going to give false witness about what you said on that call. I didn't even let you talk to them so you would be covered.
Me: (softly) I see God.
God: Oh and that foot massager, it had a shortage that was going to throw out all of the power in your house tonight. I didn't think you wanted to be in the dark.
Me: I'm sorry God.
God: Don't be sorry, just learn to trust me in all things, the good and the bad.
Me: I will trust you.
God: And don't doubt that my plan for your day is always better than your plan.
Me: I won't God. And God, thank you for everything
today.
God: You're welcome my child. It was just another day being your Father, and I love looking after my children.
Even though this is a made up conversation there is probably more truth to it than we may realize. Do you find yourself feeling frustrated, impatient and plain wore out most days from driving in the fast lane too often? Does it feel like you race from one thing to the other only to race back to do the whole thing over again each day? Does it all seem like a blur at the end of the day? Are you tired of being in the driver's seat yet? Well I have good news. YOU CAN LET GO! Release that tight grip on the wheel and turn it over to God. He already has the trip planned out and even if there are a few detours along the way he will get you to your destination at just the right time—HIS TIME! So friend right now I encourage you to stop, get out from behind that wheel and slip into the passenger's seat. Now buckle up and get ready to enjoy the ride. You missed all the scenery last time. You don't have to miss it again!
From my heart to yours,
Rosie <3
Trust in the Lord with all your heart and do not lean on your own understanding; in all your ways acknowledge him and he will direct your paths. Proverbs 3:5-6
photo by Jason Williams