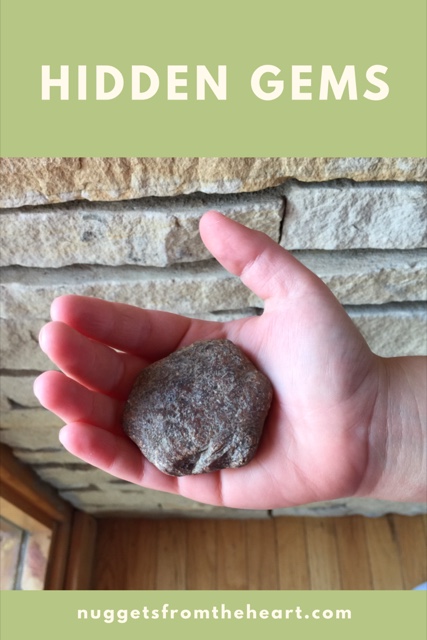 Last summer our family took a trip to the eastern part of Tennessee as part of our vacation. We stayed in a peaceful cabin nestled high in the Great Smoky Mountains in Pigeon Forge. Like most families traveling with small children, we tried to take in as many interesting sights as possible during our stay. One morning we decided to spend the day exploring the nearby town of Gatlinburg. We walked the streets for hours visiting multiple shops and stores taking in all we could in our exploration of that quaint southern town.
We came upon a Gem Mining shop and thought it might be fun to go in and have our two young grandsons try their luck at finding some hidden gems. They listened intently to the store owner explain the steps needed in order to find some possible treasure. First the boys were instructed to each grab a small hand shovel along with a metal bucket that was filled with dirt. Next they took their buckets to an area where the shop keeper kept some hand held sifters. Their parents showed them how to carefully scoop the dirt out of the bucket and into the sifter. They would then submerge the sifter into water and slowly shake the mesh bottom container back and forth until all that remained were rocks or stones of all shapes, colors, textures and sizes. The cleaned stones and rocks then went into a metal collection pan that resembled a round cake pan. Then the process of scooping, separating and washing was repeated over and over until the dirt bucket was empty. Finally the boys had their collection of potential treasure clean and ready for the final and very important step.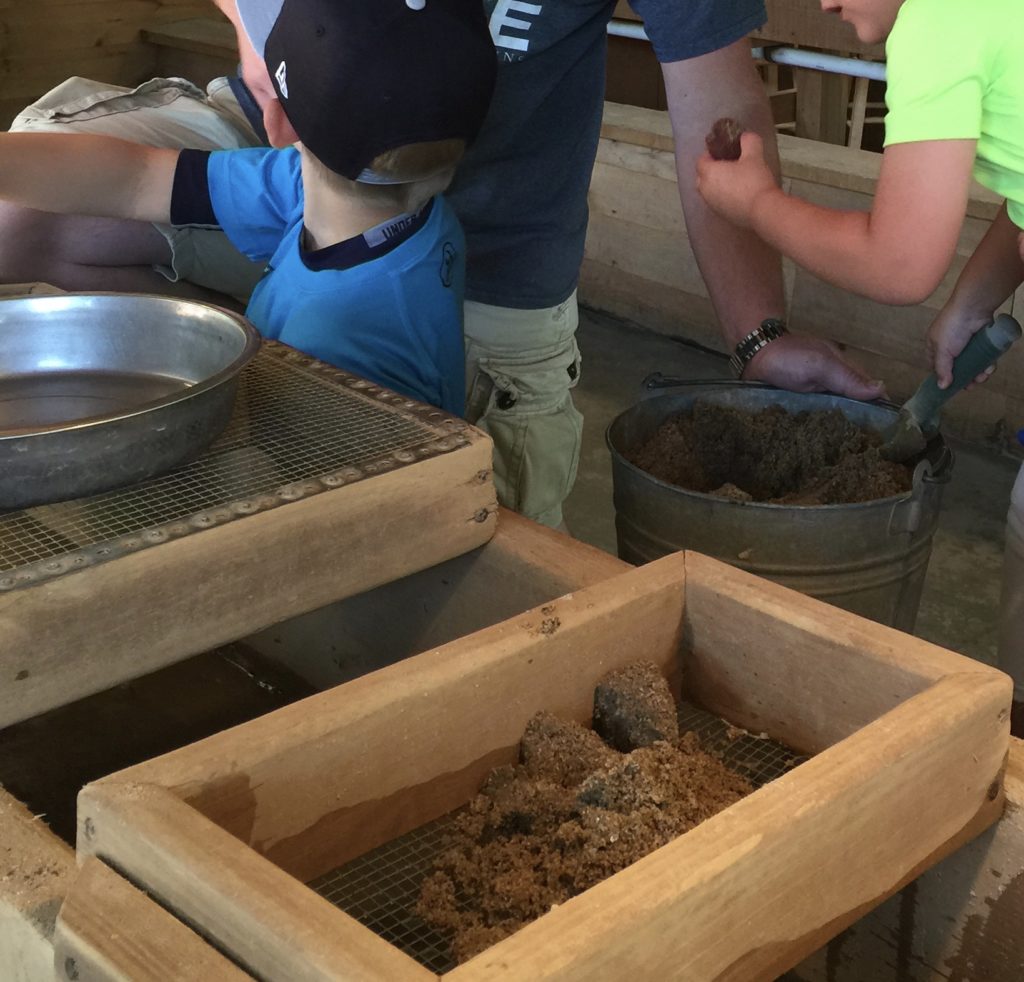 Something interesting happened during the process of searching for hidden gems. When the boys had finished sifting through the soil and had gleaned all they could from the dirt, they were studying the stones and rocks inside of their collection pans. Our younger grandson who was three years of age at the time, picked up what looked like nothing more than a rock. It was gray, rough and quite unimpressive compared to some of the other stones in his pan. He asked his older brother if he wanted what he said was "just a plain old rock." Big brother looked it over and then decided to keep it and add it to his ever growing rock collection at home. He would soon find out that his decision was a very good one. It was now time for the final step.
The boys brought their collections over to another table where the owner sat waiting with some tools in hand. The owner had been working with stones and involved with mining for almost forty years. His well trained eyes could easily spot a stone that was valuable. First he began to examine the stones from our three- year-old grandson's collection. Carefully he studied them one by one. He found some lovely pieces but most of them were various types of quartz. Even though they were pretty, they did not offer much in value. Nevertheless our younger grandson was pleased with his pan of treasures.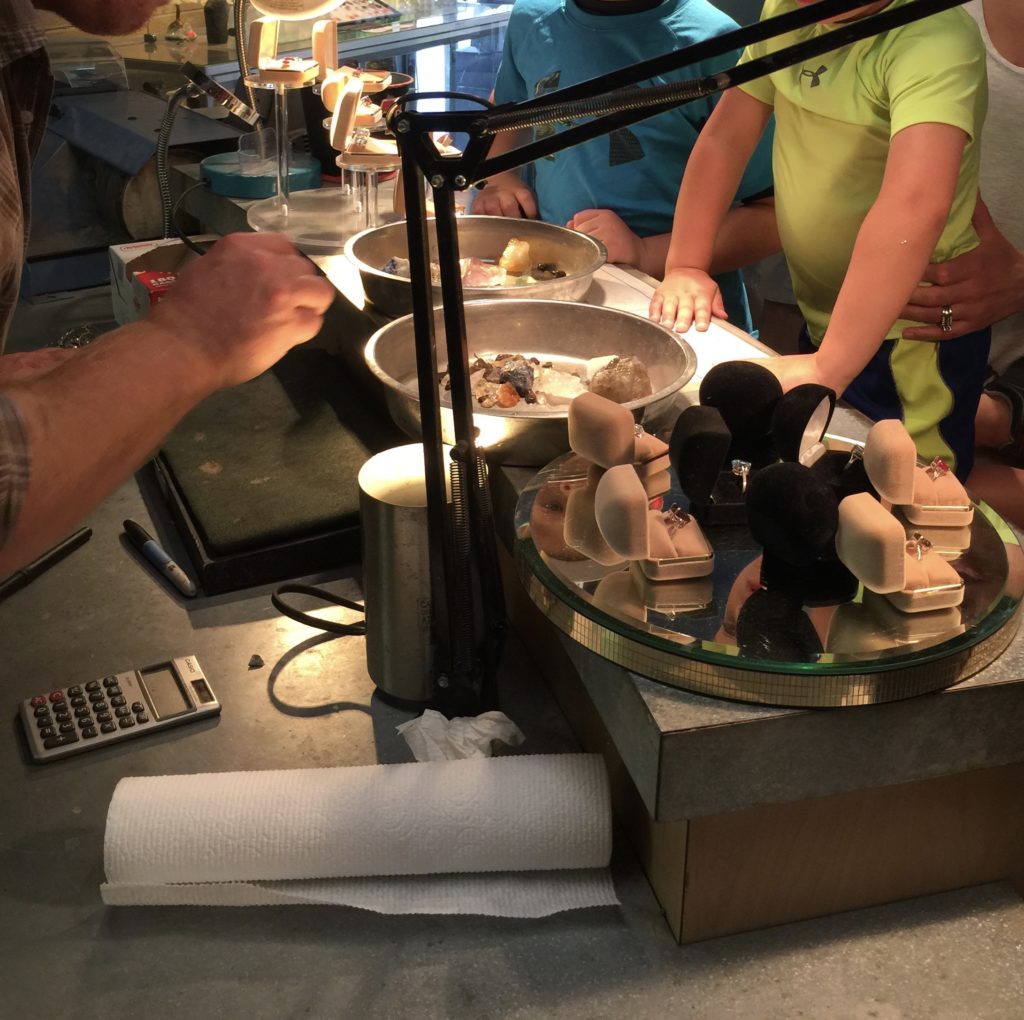 Next it was the eight-year-old grandson's turn to have his collection studied. Again the store owner picked up and studied each stone carefully. He explained that the variety of stones were appealing to the eye but like his brother's collection the stones were of no great monetary value. Then the man picked up the rock that my grandson decided might be worth keeping even though it was not appealing to the untrained eye. The man held the rock and slowly turned it over and over in his hand. He looked at our older grandson and asked him why he had chosen to keep the plain gray rock. Our grandson went on to explain that his little brother was just going to throw it away and so he decided to keep it instead. The man smiled and told him he had made a wise choice in his decision to not discard the rock. He then went on to explain that things are not always what they seem and you cannot always tell the value of something by what the outside looks like. He then revealed the truth that was hidden on the inside of the unimpressive rock. He told our grandsons that it would take some time and some work but there was a refining process that the rock could be put through. Once the process was complete and the hard mineral layers were removed, underneath deep inside they would fine a stone of value. He explained that hidden inside of this particular rock was a precious fire red RUBY! Needless to say both boys were very impressed and excited to know about the hidden gem inside of that plain old rock.
Now my friend, let me ask you a question because you know I have a Nugget to share in all this. As you read the end of the story and found out that the rock was carrying a hidden gem, what thoughts came to your mind? I will tell you what came to my mind. It was a part of a Bible verse which says: "People look at the outward appearance, but the Lord looks at the heart." (1 Samuel 16:7 NIV)
There is an amazing story in 1 Samuel 16:1-13, which portrays the secret of a beautiful hidden gem. I would encourage you to read it sometime. The summary of this story is basically this. A man named Saul ruled the people of Israel as their king. Unfortunately, Saul became disobedient and God was greatly displeased with him. God was in search of another man to replace Saul. He sent Samuel, a prophet, to meet with a man named Jesse in Bethlehem. Jesse had a number of sons and God told Samuel that he was to go and anoint the one who would succeed Saul as king. When Samuel arrived in Bethlehem, he first encountered Eliab, one of Jesse's sons. He looked at the man and because of his pleasing appearance Samuel assumed that this son would be the one he would anoint as a future king. The Lord corrected Samuel with the following statement: "Do not consider his appearance or his height for I have rejected him. The Lord does not look at the things people look at. People look at the outward appearance, but the Lord looks at the heart." (1 Samuel 16:7 NIV) The story goes on to tell us that one by one, seven of Jesse's sons went before Samuel to be anointed as the next king. Each time God told Samuel that not a one of those sons would be chosen by the Lord to take the throne. Finally Samuel asked Jesse if he had any other sons. Jesse replied that he had one more son who was the youngest and that he was working in the fields looking after sheep. David was then summoned and brought before Samuel. God confirmed to Samuel that David was his chosen one and Samuel anointed David with oil as the next king of Israel.
David…the youngest of the group.
David…the one who spent his days tending sheep.
David…the least likely to become a king in Jesse's eyes.
David…God's chosen one!
But God chose the foolish things of the world to shame the wise; God chose the weak things of the world to shame the strong. God chose the lowly things of this world and the despised things-and the things that are not-to nullify the things that are, so that no one may boast before him. (1 Cor 1:27-29 NIV)
I absolutely love this verse. It inspires me and gives me hope. I will be the first to raise my hand to being foolish, weak and feeling lowly at times. BUT GOD! Only he can take the very things that make me unpolished and find a hidden gem within me no matter how deep it may be buried. He does not toss me out because I am rough around the edges and may not appeal to the world's standards. He takes me through the refining process because he knows in the end there is something beautiful and precious inside of me that he wants to use to bless others. The good news is he will do the same for anyone. He will do the same for YOU!
I have another question for you. Do you feel like David at times? Perhaps you feel as though you have been set aside to "tend sheep" while others do more important things. Maybe like that hard gray rock, you feel as though you are not appealing enough on the outside to have others see your real worth which is hidden so deep you feel that no one will ever appreciate it. Well my friend, listen to me now.
You are not rejected. You are accepted.
You are not worthless. You are priceless.
You are not overlooked. God sees you.
Look again at the last photo above. In the forefront you will see a number of rings with various stones set into them. They are a thing of beauty no doubt. But every one of these precious gems were once hidden in layers of hard rock. They could have easily been discarded but someone took the time to look at them more closely. Someone saw potential within them. Someone took them through the process of refining them to bring them to a place where they would be proudly displayed for their value and worth.
Like these gems that have been fashioned into valuable pieces of jewelry, your time to shine will come! Let me tell you a secret in case you did not know this.
David did not walk into the palace and assume his kingship the day Samuel anointed him with oil!
The young shepherd went back to the field to tend his sheep! David still had so much to learn. Before God would allow David to watch over and lead the people of Israel, David needed to prove that he could watch over and lead his flock of sheep. David had to go through a refining process just like that unimpressive gray stone that was found by my grandson. Yes there was a beautiful treasure, a hidden gem within David, but it would take time and a process to have it be revealed. It was in this refining process that David became what God himself described as "a man after God's own heart." (Acts 13:22 NIV)
Right now I can promise you this. Regardless of any imperfect circumstances in your life that have kept you hidden, there is another "Someone" who sees beyond your situation. Your Heavenly Father formed you and fashioned you. His plans for you are good. Whatever others see or fail to see within you, your worth has never been overlooked by God.
God is Love and love always sees beyond what is and into what can be.
Let this truth set you free from the lie that your imperfections are what define you. His eye is on the sparrow and his eye is on you. He has a plan for your future. You were made in his image and he makes no mistakes.
Now my friend, get ready. You may have felt hidden for some time now in a heap of dirt but that is about to change. God's mighty hand is reaching for you and he is about to sift through some things and polish you up. He is the Master of the treasure hunt. He knows a hidden gem when he finds one and he just found you!

PS: I pray this story inspired you. I would love your thoughts and comments. Please share.
Also…speaking of hidden gems, have you looked over the list of suggested books for some great summer reading? You can click here to view it. And while you are there, be sure to sign up for the June book GIVEAWAY. There will be a drawing the end of June for Whispered Grace by Betty Predmore. The sign up link is on my blog. Blessings my friends.
photos by Rosie Williams