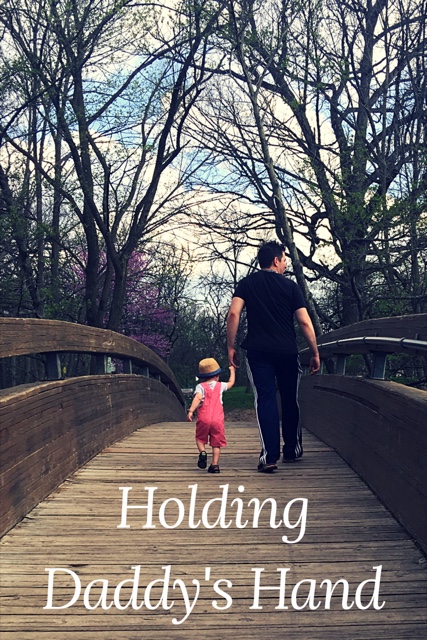 So do not fear, for I am with you; do not be dismayed, for I am your God. I will strengthen you and help you; I will uphold you with my righteous right hand. ~Isaiah 41:10 NIV
A young father proudly takes hold of his tiny daughter's hand on her first birthday. Today she is taking her first baby steps and he is there to be sure she does not fall or get hurt. His loving gaze is upon her and with a proud daddy grin he says to her, "Hold daddy's hand sweetheart. I am so proud of you! Look at you go!"
A grandpa and his small grandson are about to cross the street to a neighbor's home for a visit. He takes hold of the child's hand and says, "Hold my hand. We are crossing the street. I don't want you to get hurt."
A mother is at the shopping mall with her toddler who refuses to stay in the stroller. She grasps her daughter's hand firmly as they navigate the crowds. In spite of the struggle, the mother lovingly looks into her child's eyes and says, "Mommy has to hold your hand or you might get lost."
A woman is assisting her elderly mother as she is relearning to walk after a long debilitating illness. With love and reassurance in her voice, the daughter says, "Mom, just hold my hand. I've got you. I won't let you fall."
A senior couple is taking a leisurely evening stroll through a park. Even after sixty years of marriage, it is obvious they are still full of love for each other. Their hands are clasped tightly together for no other reason except they want to be close. Words are not needed to speak what their hearts are saying: "I love you. I love being near you. I will never tire of having you hold my hand."
Holding the hand of someone you love is a beautiful thing. Holding a hand speaks love, protection, comfort and reassurance to another person. It says, "You matter to me. I am here for you!"
As I ponder all these various scenarios of holding hands, I cannot help but reflect on how my hand has been held time and time again by the One whose love for me never wavers.
Like the parent protecting his child crossing a potentially dangerous street, my Heavenly Father holds my hand to protect me when I find myself at those uncertain crossroads of life. I simply have to hold his hand and he will guide me.
Like the mother tightly grasping her strong willed daughter's hand at a shopping mall filled with strangers, so too my Abba Father orders my steps so I will not get lost. Even when I stubbornly think of running ahead of him, he takes hold of my hand firmly but lovingly and will not let me get far.
Like the daughter holding her mother's hand and watching over her timid steps, my Heavenly Father holds me up steadily when I am afraid of falling. His strong and able hand holds mine and keeps my feet from stumbling.
And just like the beautiful elderly couple with hands interlocked as they take their stroll, so too the Lover of my soul reaches for my hand. He lovingly whispers to my heart, "Take my hand child. Let's walk together. I will protect you. I will guide you. I will not let you get lost. My hand is strong enough to keep you steady and on the path I have chosen for you."
My friends, I do not know what you are in need of today.
Perhaps you are at a crossroad in life and you are not certain of which path to take.
Maybe you are feeling a bit lost with no direction for your life today.
Or possibly a situation in your life has greatly weakened you and you are not sure if you have the strength to stand, much less "walk" as you once did.
I know there may even be someone reading this that never had a real father figure in their life as a child. Even now as a grown adult, you feel like an orphan in some ways. Precious one you are not an orphan in the Heavenly Father's eyes. He has never left your side and he will never abandon you. Whether you know it or not he has been walking next to you all along and his hand has been outstretched waiting for you to grab hold of it. Take his hand now. It is big enough and strong enough to bring you out of any pain you have endured.
Whatever your circumstances, rest in knowing this. The love of the Father will sustain you. His wisdom will guide you and his unfailing mercy will protect you. Look up from your circumstances. The strong and mighty hand of your Abba Father is reaching for yours. Just hold onto Daddy's hand. Before you know it, you will be walking with confidence once again. His loving gaze is on you with each step you take together. You can trust him.
Now listen closely as you walk with the Father. Did you hear what he just spoke to you? I did. He is smiling proudly and is saying, "Hold Daddy's hand my precious child. I am so proud of you. Just look at you go!!"

PS: Share your thoughts. Is there a time in your life when you just knew that God was holding your hand through a situation?
Do you need prayer right now? It would be my privilege to "hold your hand" and pray for you, whatever your need may be. Leave a comment below. You are not alone. Be encouraged my friends.