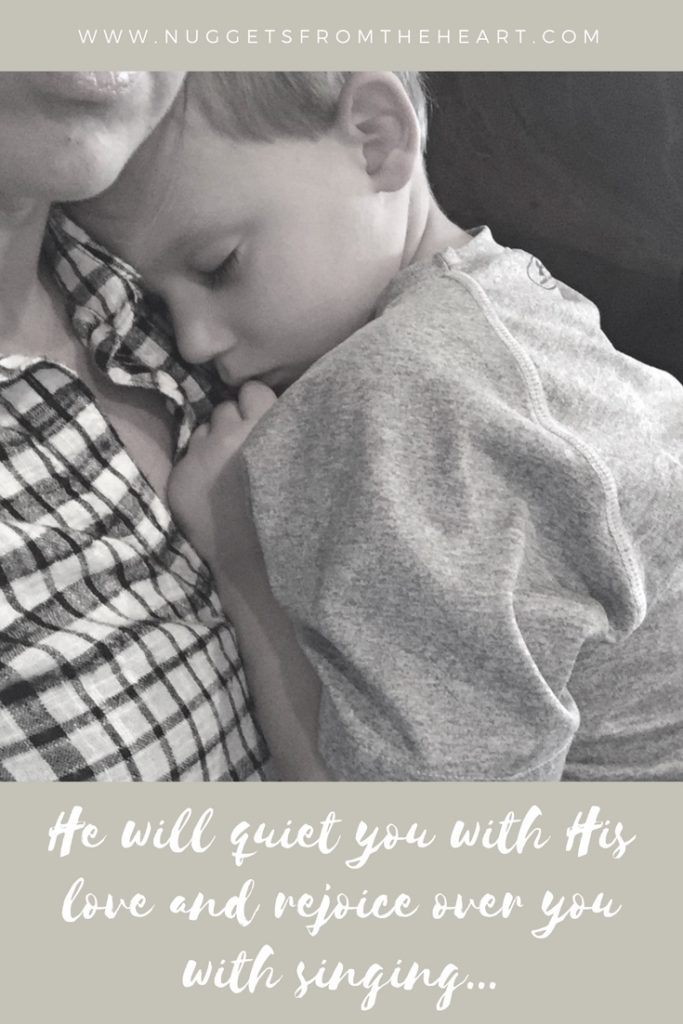 A young child rarely gives in to fatigue long enough to willingly welcome a nap. He will keep going to the point of exhaustion if allowed. This behavior is an almost daily ritual in the life of little people. My middle grandson is a prime example of this. When it comes to nap time, the fun he is having at the moment is always so much more enticing than rest.
The wisdom of his mother always knows that if she does not intervene, the inevitable will strike. A crashing MELTDOWN! So she will scoop up her defiant child even in the midst of his opposition. She understands what he needs at that moment. REST! In spite of his tears of protest, her arms embrace him. As she soothes him, the warmth of her love and the sound of her gentle voice win the battle once again. His struggle eventually gives way to restful sleep. Restful sleep! How wonderful that sounds.
I don't know about you but there are days that I long for someone to make me take a nap. Somehow I don't think I would protest. But yet, if you really think about it, aren't we as adults often no different than an unreasonable toddler?
We go, go, go.
We do, do, do.
We are exhausted to the brink of a meltdown. But God knows what we need more than we do. Sometimes it requires him lovingly but firmly scooping us up and making us stop no matter how much fun we think we are having.
Yes, we resist. We cry. We may even throw a fit.
But eventually The Father's love and wisdom win out. Our weary body and thirsty soul finally give in to the drink of HIS REST as we embrace the peace of his loving arms.
"Be still and know that I am God." ~Psalm 46:10 NKJV
Being still can be one of the most challenging things to do with so many cares of the world clamoring for our attention on a daily basis. Yet it is only in that stillness that we will most clearly hear the still small voice which comes from our loving Abba Father. I have learned that sometimes the GOOD things get in the way of the BEST things! God always wants the best for us. For this reason we need to be mindful of the commitments we make to others and sometimes even in ministry. When I find myself feeling overwhelmed because my plate is spilling over I know it is time to take inventory. I have to ask myself if everything I am involved in, is really something that God led me to do or is it my own doing? And how can I know exactly what my assignments from God are if I am too busy to sit with him and listen to his instructions? I have also learned that if I do not stop and rest on my own, it is just a matter of time before I will feel the arms of my Father picking me up and putting me down for a "nap" before I have a meltdown! Oh how he loves me!
In Luke 10:38-42 NKJV, we read about two women. You have heard of them. Martha and Mary. They were sisters. Martha had opened her home to Jesus and his disciples. Martha was frantic because she was busy making all the preparations for the impromptu "small group" gathering that was taking place under her roof. She even complained to Jesus because Mary was not helping with all the preparations. As Martha ran around DOING, Mary was simply BEING. Mary was at the feet of Jesus, being still and taking in every word he spoke. She had found her place of rest in the One who gives true rest. Jesus responded to "Meltdown Martha" with these words: "Martha, Martha you are worried and upset about many things…Mary has chosen what is better and it will not be taken away from her." ~Luke 10:41-42 NIV. I believe he speaks the same words to us today. Lord help us to choose the best thing!
My friends, we were not created to live life going from one "meltdown" to another.
So right now…just stop….breathe deep and listen for that Voice saying to you: "Come to me all you who are weary and burdened, and I will give you rest." ~Matthew 11:28 NIV
Are you weary right now? Do you feel like you are on the verge of a physical, emotional or spiritual "meltdown?" Go to him. It is time to "recharge" your batteries and he is the perfect "power source." His arms are big enough to hold you and every care you have.
Rest. Recharge. Restore. He will do all this for you as He sings over you and quiets you with his love.~Zephaniah 3:17 NKJV

PS: Are you finding yourself in a whirlwind of Martha busyness today? Do you long to be a Mary and just be able to stop and rest at the feet of Jesus? Leave me a comment below. I will be glad to pray for you. It is time to rest.
Photo Credit: Jessica Marozas