Summer is the perfect time to catch up on some great reading. I have put together a summer reading list, along with a book giveaway (details below)! This is a great opportunity to check out familiar books as well as some new books you perhaps have not heard of yet. In addition to several already well known author's books, I decided to feature some new authors. These are friends I have made in the blogging world; so what a better way to congratulate them than by bringing some attention to their newly published books. The list is now available just in time to pick out some great books to accompany you to the pool or beach!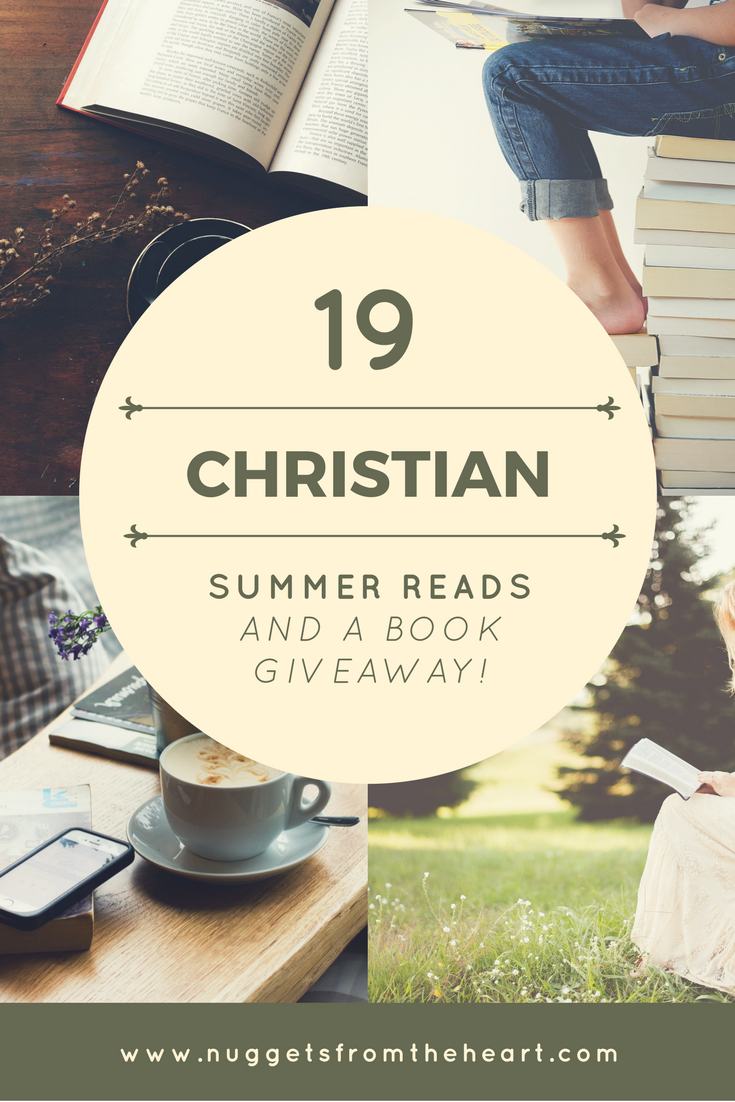 Great Summer 2017 Reading:
Help and Hope While You're Healing: Christine Carter
Breaking Free From Me: M.H. Johnson
Turning Water into Wine: 100 Stories of God's Hand in Life: Helen Brown
His Word Alone: A Call to put down your Bible Studies and pick up your Bible: Summer Lacy
Moving Past Procrastination to a Great Marriage: Lori Ferguson
Whispered Grace: Betty Predmore
Revealing Your Treasures Hidden in Darkness: Karen Sweeney-Ryall
The Magnolia Story: Chip and Joanna Gaines
Redeeming Love: Francine Rivers
Bridge to Haven: Francine Rivers
Speaking of books and new authors…have you read one of my recent blog posts with the BIG NEWS? Click here to read "Sometimes God says Wait: Book Announcement." Yes you read that right!!
The book, "Nuggets from the Heart" is now in the works for publication and will be released sometime this Fall!
I do not have an exact date yet but I promise all my Nuggets Followers, you will be among the first to know! This book has been a labor of love. It has been on my heart for quite some time and now it is about to become a reality. I am excited and feeling so blessed. I cannot wait to make it available to you, my faithful followers and supporters! More news to come as things progress with the publication process, so be sure to sign up in the sidebar to the right for book updates.
Now more than ever I need your help to let others know about our world of Nuggets! If you have ever been blessed by even just one story you have read on my blog, please pay it forward. Share the nuggets stories on your social media platforms….Facebook, Twitter, Instagram etc. Remember, you can find those great little share buttons at the bottom of each post.
I truly believe that between the growing Nuggets From The Heart community and the upcoming book publication, there could be a wonderful ripple effect of bringing hope and encouragement to people in ways we can only imagine. But I am just one voice. I need your voice too. Do not underestimate the power you have to help me make a difference!
Lastly, I want to say that I LOVE the interaction with you all. Please take a few minutes to share your thoughts in the comments sections at the end of each blog post. It is such an encouragement to all the readers to read those wonderful comments. Let's encourage one another with every opportunity we have. You never know how your "little comment" can make a difference to another person.
I hope you find some great ideas for summer reading as you enjoy the warmer days to come. And as always, thanks for being such a great audience! God bless you.

SUMMER BOOK GIVEAWAY DETAILS:
Giveaway fun is in full swing!
In June, Betty Predmore's book, Whispered Grace was given away to one blessed winner. Check your newsletter to find out who she was.
Now we are ready for the JULY GIVEAWAY with TWO BOOKS that will be given away!!
Many thanks to two gracious ladies, Christine Carter (Help and Hope While You're Healing) and Whit Devereaux (Not By My Own) for kindly offering to bless two winners in July. If you entered your name in June, your name remains on the list of possible winners for July. Now go out and share the goodness and let your friends know about the giveaway. Someone is waiting to be blessed!