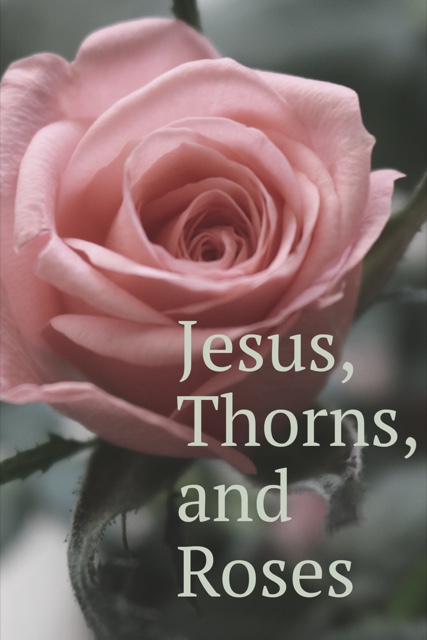 I love roses. The thorns, well that's another story. The truth of the matter is you cannot have one, without the other. They are a "packaged deal" so to speak. Thorns and roses are somewhat like life. Some days you find yourself soaring the mountain tops. Ahh…the beauty of the roses! Then your world is turned upside down and you find yourself in a valley that seems so low. Ouch…the sting of the thorns! A few days back, God dropped a little nugget on my heart regarding thorns and roses.
DISMAY complains and says: "How sad that there are so many thorns on a single rose."
DELIGHT exclaims and says: "What joy to find a single rose in the midst of so many thorns!"
Every day is a choice on what our focus will be. We can choose to complain or we can choose to exclaim. Jesus tells us very specifically in John 16:33, that in this world we will have troubles. But the good news is this. In that same verse of Scripture, he tells us that He overcame the world. If you know Jesus as your Lord and Savior then he lives in you. That makes you an overcomer as well! But you cannot be an overcomer if you have nothing to overcome.
Today marks the twenty-second anniversary of my spiritual birthday. August 13, 1995, was the day my spiritual life was changed forever. It was the day I gave my life to Jesus and I can say without a doubt, it is the BEST decision I have ever made in my life. You see I was raised in a loving family who loved God and knew about Jesus and about some of the stories in the Bible. Did you catch that key word…ABOUT? It is one thing to know about Jesus, but it is a totally different thing to KNOW HIM PERSONALLY. Huge difference. It is the difference between life and death spiritually. The bottom line is that even though I had a lot of religious doctrines, I did not have Jesus. I did not have him in the way it mattered. Jesus was in my HEAD, but he was not in my HEART.
I knew from the time I was a child of eight or nine years of age that something was missing. That nagging feeling stayed with me for many years. No matter how much I tried to be good enough or do enough good things, there was still a void in my life. I often wondered about heaven and questioned myself and others about going there. The answer I received was always the same: "You cannot be sure but just try to be a good person and hopefully you will go to heaven someday." If that wasn't enough to put fear in anyone, especially a young child, then I don't know what was! I can't even count the number of nights as a little girl, I fell asleep crying in fear of dying and not knowing if I would go to heaven! As a teen ager and young adult, I still went to church but only to please my parents who attended church faithfully. I never really read a Bible. It was very confusing to me and other than the chapters telling about Jesus birth, death, and resurrection, the Scriptures did not spark much interest within me. But God in his grace and his mercy had a much bigger plan for me.
I came from a large family and I am the oldest sister to six siblings. Like me, my four brothers and two sisters were raised with a religious foundation. I am not saying that was a bad thing. In fact, I am thankful for that foundation. But man made doctrine is a poor substitute for the truth of God's Word. You will know the truth and the truth will set you free. (John 8:32) We knew doctrine, but we did not know Truth. It was not until we became grown adults that one by one we came to know Jesus personally. It would take pages and pages to tell the full story of how God worked over the course of 17 years to bring salvation to my entire family, meaning myself, my six siblings and both my father and mother before they went home to be with the Lord! For now, I will say that God began to move in our family through my youngest sibling, John. There is a ten year age difference between us. John was the first one in our family to be saved and he was the one to plant the initial seed of faith in my heart. It would be seven years from the time he first shared the truth about salvation through God's Word with me. But I will never forget the love he spoke with as he shared the Gospel message with me nor will I forget what he said to me. John had only been saved a few months but the Bible he held in his hand looked as though he had owned it for decades. It was frayed, worn and written in from Genesis to Revelation. With tears in his eyes, he spoke these words:
"Rosie, I love you so much. I love your family. I will not stop praying for all of you until I know you are all saved. The truth is all inside this Bible. I pray you will find it. More than anything I want you and all my siblings and mom and dad to be saved. I know I am going to heaven someday and I want to see all my family there. "
Even though his words touched me, I was not yet ready to receive Christ as my Savior, but the seed of Truth had been planted and it would continue to grow. In God's perfect timing, each member of my family was in fact saved. It did not happen overnight. It took years. It was a process. But in time every single one of us came to know Jesus as their Lord and Savior. Each of us has our own "God story" of grace and redemption. But here is the thing. Salvation in Christ has a ripple effect. Over the years, grace has continued to pour into the lives of our spouses, our children, grandchildren, and many extended family members. That ripple effect continues to this day. Somehow I have to believe that my parents are smiling down from heaven in joyful awe of how beautifully God has worked in their family. And this, my friends,  is why it is called AMAZING GRACE!
Religion teaches doctrine but RELATIONSHIP gives you Jesus.
When I received Jesus as my Savior, I finally realized what the missing link in my spiritual walk had been for so many years. I finally understood that I needed to have a personal relationship with Jesus. It was not enough for me to know about him. I had to come to know HIM in a personal way. So late that August night in 1995, I prayed a simple prayer because I knew I needed to be saved. I simply asked Jesus to forgive me for all my sins. I asked him to come and live in my heart and to be my Savior and my Lord. I confessed that he died for me and that he rose from the dead because I believed that by faith. As a result of my surrender to Jesus, he filled my heart and my life with a peace and a joy that nothing or no one could have ever given me. That void in my heart was gone because Jesus had filled it! Most importantly, as a born again child of God, I was now assured of spending eternity in heaven with Jesus someday. I no longer had to hope for a chance to work my way to heaven. I finally understood that God's grace, along with my faith in Jesus death on the cross for me, was the key that would give me entrance into heaven. I could not save myself nor can anyone else save themselves. Why? Because the Bible says that salvation is a gift from God and we receive it by grace, through our faith. (Eph 2:8)
So now back to the thorns and roses. In the twenty-two years of living my life as a Jesus follower, you may wonder if everything has been perfect in my life. NO…totally and absolutely not! In the past two plus decades, I have dealt with rejection, broken relationships, grief, loss, serious illnesses personally and in my family. I have experienced betrayal, doubt, fear, anxiety, and great uncertainty at times. Yes, I have had my share of thorns.
But you know what? I never went through any of these trials alone or abandoned. Jesus has walked with me and seen me through every single time. The more intense the storm I faced, the closer he held me in his arms. When I could not walk, he carried me. If there is one thing I have learned about my Savior is that he is FAITHFUL! And though there have been days with thorns, I can look back and honestly tell you that there have been by far many more days filled with the sweet fragrance of roses! Knowing Jesus on a personal level has changed me and changed my life in profound ways. His love for me has wrecked me in such a deep way, a beautiful way that only makes me want to share that love with others. Having lived a life for and with Jesus is the only thing that is going to matter when things are all said and done someday. Jesus is the greatest gift that God ever gave to this world. One day we will all have to answer this one last question:
"What did you do with the Gift of the Son?"
So now dear ones I want to speak to two groups of you right now. First of all, to my fellow Believers, I would love to hear from you. How has Jesus changed your life since accepting him as your Lord and Savior? What trials has he faithfully brought you through? God's Word says we will overcome by the blood of the Lamb and the word of our testimony. (Rev 12:11) What great or even small obstacles have you overcome since knowing Jesus? Let's encourage one another and share a testimony of the Father's goodness to us.
The second group of readers I want to speak to right now are those of you who have read this story and there is something stirring deep inside somewhere. Something you read today has stirred your heart. You may even feel a bit unsettled or restless right now. My friend, first of all, I want you to know that GOD LOVES YOU! His Spirit is tugging on your heart right now. It is not a coincidence that you "just happened" to read this story today. My friend,  I have to ask you a very important question right now. Your answer is vitally important. Do you know Jesus? I am not asking if you know ABOUT him but do you KNOW HIM PERSONALLY? If you have never received Jesus as your personal Savior then this is your moment. I am not offering you religion or a membership to any church denomination. I am simply offering you a chance to receive Truth according to God's Word. Would you be willing to take a moment and read the following scripture verses? Just click on each one to read what the Bible has to say about salvation.
John 3:16, John 10:10, Romans 6:23, Romans 3:23, Romans 5:8, 1 Corinthians 15:3-4, John 14:6, Romans 10:9
Now, what are your thoughts? Are you feeling a nudge? Are you in need of a Savior today? If so then simply ask Jesus to forgive you and surrender your life to him. Your prayer does not need to be long or complicated. God is ready to listen to the simple but sincere cry of your heart. What is your choice today? If you choose to put your trust in Jesus today, would you make mention of that in the comments below? I would love to continue to pray for you even though I have already prayed for every person who would read this message. I have prayed that you will know the truth and that you will be set free to live the life in Christ that God desires for you.  There is a heavenly garden of roses waiting to be enjoyed in eternity. That is a promise from God for anyone ready to receive the gift of grace. He is a very good Father and he loves you. Jesus is waiting. So now I ask you…"What will YOU do with the Gift of the Son?"