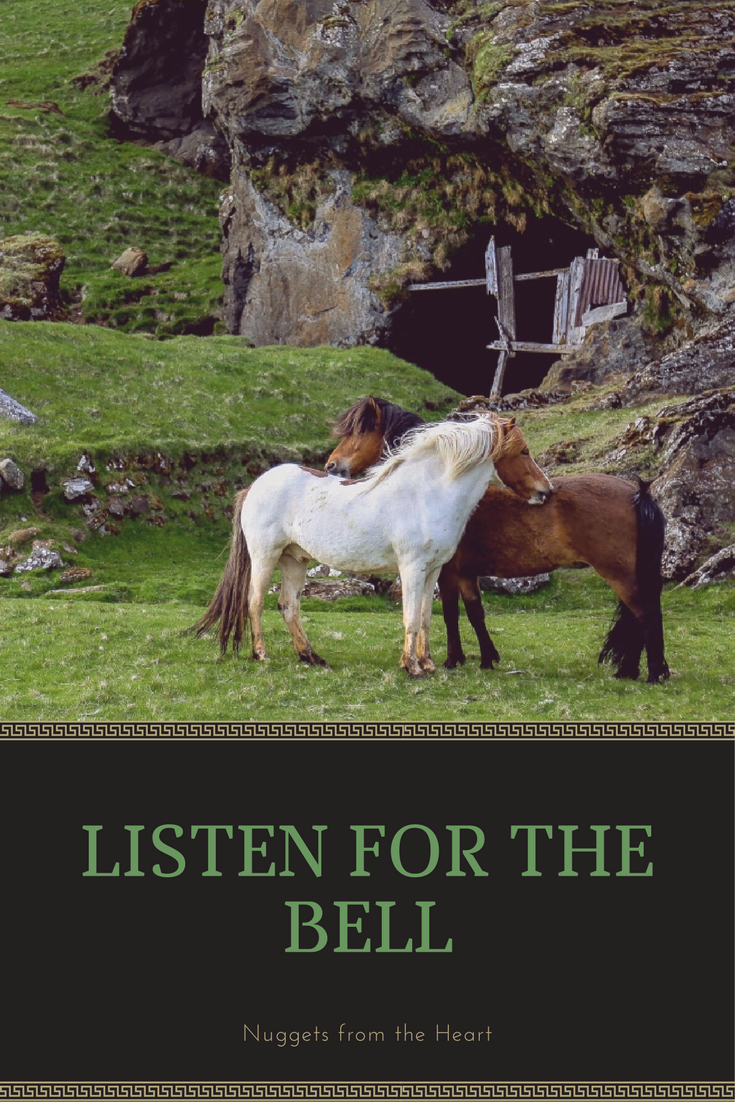 Praise be to the God and Father of our Lord Jesus Christ, the Father of compassion, who comforts us in all our troubles, so that we can comfort those in any trouble with the comfort we ourselves receive from God. 2 Corinthians 1: 3-4
Two Horses
Just up the road from my home is a field, with two horses in it. From a distance, each horse looks like any other horse. But if you get a closer look you will notice something quite interesting…One of the horses is blind.
His owner has chosen not to have him put down, but has made him a safe and comfortable barn to live in. This alone is pretty amazing. But if you stand nearby and listen, you will hear the sound of a bell. It is coming from a smaller horse in the field. Attached to the horse's halter is a small, copper-colored bell. It lets the blind friend know where the other horse is, so he can follow.
As you stand and watch these two friends you'll see that the horse with the bell is always checking on the blind horse, and that the blind horse will listen for the bell and then slowly walk to where the other horse is, trusting he will not be led astray. When the horse with the bell returns to the shelter of the barn each evening, he will stop occasionally to look back, making sure that the blind friend isn't too far behind to hear the bell.
Like the owners of these two horses, God does not throw us away just because we are not perfect or because we have problems or challenges. He watches over us and even brings others into our lives to help us when we are in need.
Sometimes we are the blind horse, being guided by the little ringing bell of those who God places in our lives.
And at other times we are the guide horse, helping others to find their way.
~Author Unknown~
The first time I ever read this story it touched my heart. For me it was a beautiful reminder of the way God intended the Body of Christ should live. We were never created to walk this life alone. God cares about every single detail in our lives big and small.
As you read these words, some of you already know exactly what I mean when I talk about those moments in time when we feel as though we are struck "blind" due to a circumstance we find ourselves unexpectedly trapped in. It is a dark moment and you just do not know how you will see your way out.
Dark moments…
when your doctor calls and the test results are not a good report,
or your spouse calls it quits in your marriage,
or the rehab center calls and says your teen has run away and cannot be found,
or you get laid off from that job you believed was meant to be your career…
Yes dark moments.
In John 1:5 we are told that "the light shines in the darkness, and the darkness has not overcome it." In those dark moments we all need a glimmer of light…a glimmer of hope. So my friend here is the good news. God is forever faithful. Do not panic. God will not leave you in the dark. He will send you a light or just like the two horses story, He will send you a bell. God will wrap you in his love in the presence of someone he assigns to walk with you and the darkness will not overtake you. It is the Father's promise to never leave nor forsake you.
Over the years I have learned a powerful lesson about relationships and what it means to help the people God puts in my path. First of all I know that God will never waste anything in my life. Just as He has brought me comfort time and time again in my blind seasons, His desire is then to send me to comfort someone else in their time of need. I thank God from the bottom of my heart for all the times in my life he has sent "the other horse and a bell" to lead the way for me. My prayer is that I will always be sensitive to hear his voice telling me when to wear the bell and quiet the fearful heart of another. That is my prayer for each of you as well.
So friends no matter what you face today, my hope for you as you read this is that God will open your ears to listen. In the midst of the loud voices of fear and confusion, remember you are not alone. Listen. Yes that is a bell! And with that bell comes someone sent by the Savior himself to walk along side you and lead you to safety. Fear not.

PS: Are you finding yourself in one of those dark moments in life right now? Leave me a comment and I promise I will pray for you. Simply say "pray for me." God knows the details. If you have been the one to wear the bell to help someone else find their way, please feel free to share a comment as well. Your story will be a blessing and inspiration to all of us.