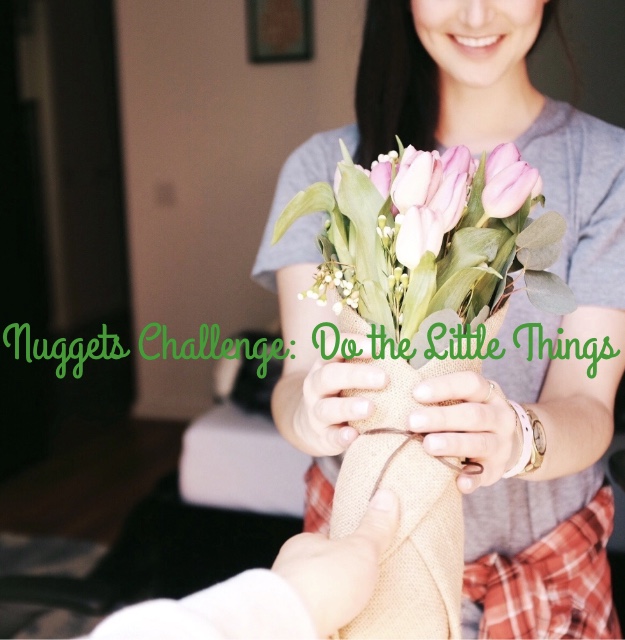 Sometimes the seemingly small insignificant things we do for someone are actually the most important things we can do for them.
I have learned that when God brings a person to my mind it is often His way of telling me that someone is in need of encouragement at that moment. This is especially true if I have not been in touch with that person in awhile. Usually my first response is to whisper a prayer for them wherever they are or whatever they are doing at that moment. Sometimes God wants us to take it a step further. In our busy hectic world where the hours in our day are so often already spoken for, the gift of just a little of that time can be the greatest blessing for another person. You may not always be able to sit down for an hour long chat and catch up with a friend. If you can find time to do that at some point I can tell you this…you will both be blessed at the end of that conversation. Sometimes a simple text to say, "I am thinking of you today" is all someone needs. Let them know the Lord brought them to mind and you are praying for them. Because I am a "word person" I love to randomly send handwritten notes of encouragement. You should see my stash of note cards and pens in every color! But that's just me. Each of us is different but each of us can touch a heart in a special way…in our own unique way.
So here is my "Nuggets Challenge" for you today. As we wind down the love month of February would you think about one thing that you can do for one person to let them know they are loved?
It could be:
a long overdue phone chat…
a quick text…
an email…
a reconnection over a good cup of coffee together…
a little hand written note in the mail…
a small bouquet of flowers to brighten someone's day…
a sweet little bag of a favorite candy…
a small devotional book that will bless and inspire…
It can be anything. Ask God to show you who needs some love today and through the end of this month. There are seven days left in February so join me in making this final week extra special as we share some love with others.
Remember…sometimes the little things are really the big things. Do the little things.
Oh one more thing. Will you share your challenge idea by leaving a short comment to let me know how you plan to bless someone? I know my readers want to hear all about it and so do I! And just so you know I will be taking my own challenge as well. This week I will make the time to write and send some love notes to someone that God puts on my heart. So let's do this together. People are waiting to receive a little nugget of love!

And now these three remain: faith, hope and love. But the greatest of these is love. 1 Cor 13:13